Hello, friends. It's Sunday, and if you've read my previous two editions, then you'll know that I've been complaining about the lack of sun out here in Frankfurt, Germany. Well, today it's different, so let's get started because the sun is waiting for me…
As I was preparing the performance table below, only two things really caught my eye: the US 10-year Treasury yield and the oil market. If you take a look at the column on the right, you'll see that yields have gone up for four weeks straight and the oil price (measured in USD) for seven weeks straight. One obviously has a direct correlation to the other, and it does explain a bit about why the stock market hasn't been doing so well the past two weeks, which you can see with the two-week losing streak of most of the indices.
So let's talk about the bond market and interest rates. Interest rates were calming down until last Wednesday, with the U.S. 10-year yield (a common benchmark for long-term interest rates) falling to almost 4%. However, starting on Thursday, there were significant decreases in the prices of bonds, which led the 10-year yield to bounce back to 4.16% on Friday.
These changes in interest rates were brought about by slightly disappointing reports on the Consumer Price Index (CPI) and Producer Price Index (PPI), both of which measure inflation. These reports fueled fears that inflation, or the general increase in prices, could start rising again soon. And this fear has only been fueled even more by rising oil prices, which have gone up for seven weeks straight and are nearing 87 USD a barrel.
This development, of course, has market participants somewhat worried that interest rates will remain higher for longer and that financial conditions for borrowers will remain difficult for an extended period. It should come as no surprise that in this context, the stock market didn't finish the week on a positive note, especially the NASDAQ 100, which lists many companies that are very sensitive to changes in interest rates.
It also should come as no surprise that in this context, precious metals such as gold have lost their allure due to the fact that investors are allocating more funds to US treasuries due to their attractive yield. After all, on the short end of the yield curve, 3 and 6-month treasuries are yielding above 5.4%, which seems to be much more attractive than gold for most investors. Let's keep a close eye on that yield curve. 👀
Last Week's Market Performance: A Global Overview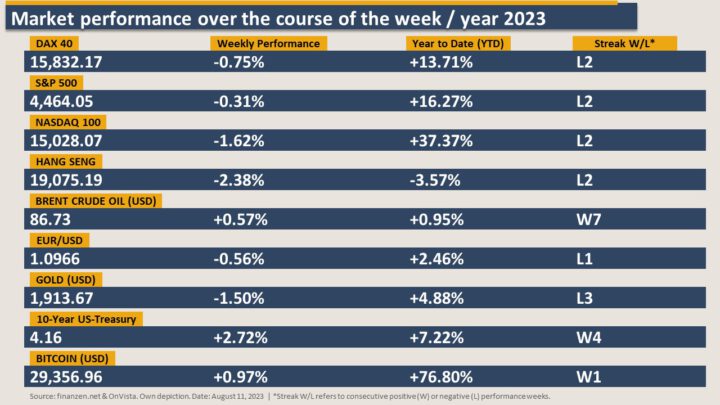 Last Week's Survey Results | Calender Week 32/2023
In last week's poll, 61% (down from 74% the previous week) of LinkedIn participants and 67% (down from 75% the previous week) of Instagram participants were bullish, although less so than the previous week. The S&P 500 finished its second consecutive week on a negative note, closing with -0.31%, which is much better compared to last week's -2.27%.
If you want to participate in my weekly polls, make sure to activate the notifications button on LinkedIn, and you'll be notified every Saturday at 8 P.M. (CET).
You can still vote here in this week's poll.
Cheerio!
Endrit Cela The Investment Fella – #ECB #mm #411 🦍