It feels like déjà vu, because just last Sunday I was sitting by the window of my apartment, looking outside at the rainy weather, and thinking it would be funny to start off today's newsletter with the fact that it's Sunday but there's no sun. I can't use the same joke twice, so let's kick off today's edition of my newsletter.
I was talking to Frank Fischer, our CEO at Shareholder Value, on Tuesday about why the recession is taking forever to kick in, and he sent me a link to Albert Edwards' Global Strategy Weekly research paper from Societe Generale, which shows a very intriguing development. U.S. businesses, which are large-scale borrowers, have seen their debt payments drop instead of rising with higher interest rates. This phenomenon is unusual and puzzling, meaning that despite rising interest rates, companies are paying less in interest over the past year, possibly preventing a recession. You can see that in the following chart provided by Albert Edwards.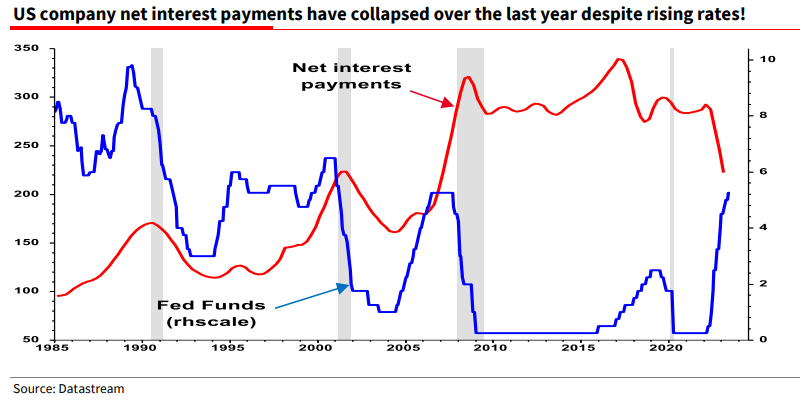 Now, why is that? Usually, as interest rates keep going up—as they have done many times in the past and as is occurring right now—companies also face higher costs. However, companies have leveraged fixed-rate loans from 2020/2021 in accounts with variable rates, profiting from interest rate changes instead of losing money. Back in 2020/2021, the federal funds rate of the Fed was basically at zero, and large borrowers who were expecting inflation to go up (and thus interest rates as well) adjusted their portfolios accordingly to even profit from the situation. This abnormal behavior of interest rates, boosting profits and staving off a recession, confirms that the economic world is behaving unpredictably, and this could go on a little while longer…
The other big piece of news this week, as I'm sure you've heard for the 100th time, is America's rating downgrade by the rating agency Fitch. I actually wrote an article about that on MVP – Main Value Partners, so I'll spare you the rant, and you can read it here for yourself.
Last Week's Market Performance: A Global Overview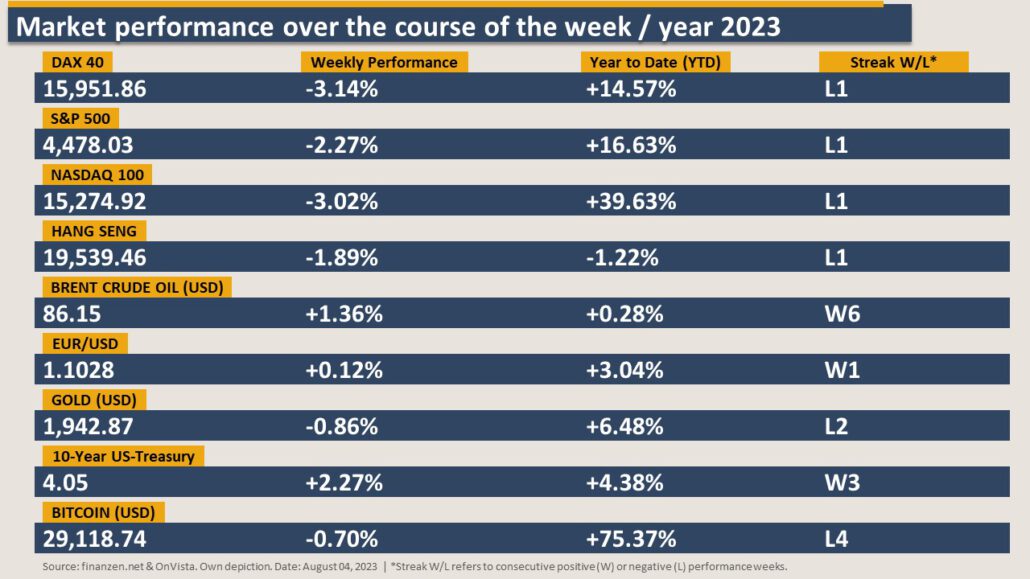 Last Week's Survey Results | Calender Week 31/2023
In last week's poll, 74% (up from 61% the previous week) of LinkedIn participants and 75% (down from 80% the previous week) of Instagram participants were bullish. The S&P 500, however, did close the week on a negative note, finishing with -2.27%. Let's not forget, however, that the index is up almost 17% year-to-date, and that August is infamous for taking a few days off 😊.
If you want to participate in my weekly polls, make sure to activate the notifications button on LinkedIn, and you'll be notified every Saturday at 8 P.M. (CET).
You can vote here in this week's poll.
Cheerio!
Endrit Cela The Investment Fella – #ECB #mm #411 🦍