Welcome back, friends. It's Sunday, yet there's no sight of the sun. Frankfurt has been drenched in rain and wind the entire week, but hey, we're making the best out of it 😊.
This week, the stock market performed quite well. Here in Germany, the leading Index DAX 40 hit an all-time high on Friday before settling into the weekend. We also gained some clarity from the central banks Fed and ECB, both of which hiked interest rates by 25 basis points on Wednesday and Thursday, respectively. There were numerous rumors suggesting that the Fed might pause or entirely halt its hiking spree due to better-than-expected inflation rates in the United States. However, Fed Chair Jerome Powell stated in his speech that the country still has a long way to go to reach its inflation target, thus signaling further rate hikes. Yet, the S&P 500 and the rate-sensitive NASDAQ seemed unfazed by these remarks and actually had a pretty good week.
The Federal Funds Rate has now hit its highest level in 22 years, which begs the question, "When will the Fed stop?" If we look at this chart, we might get an indication. Usually, the Fed never cuts rates until something breaks, and that something is the economy, where 'breaking' signifies 'entering a recession.' It's typically after the country has entered a recession that the Fed reverses course and begins to cut interest rates. As we've discussed in previous newsletters, the Fed is intent on cooling down the labor market and ultimately stabilizing inflation.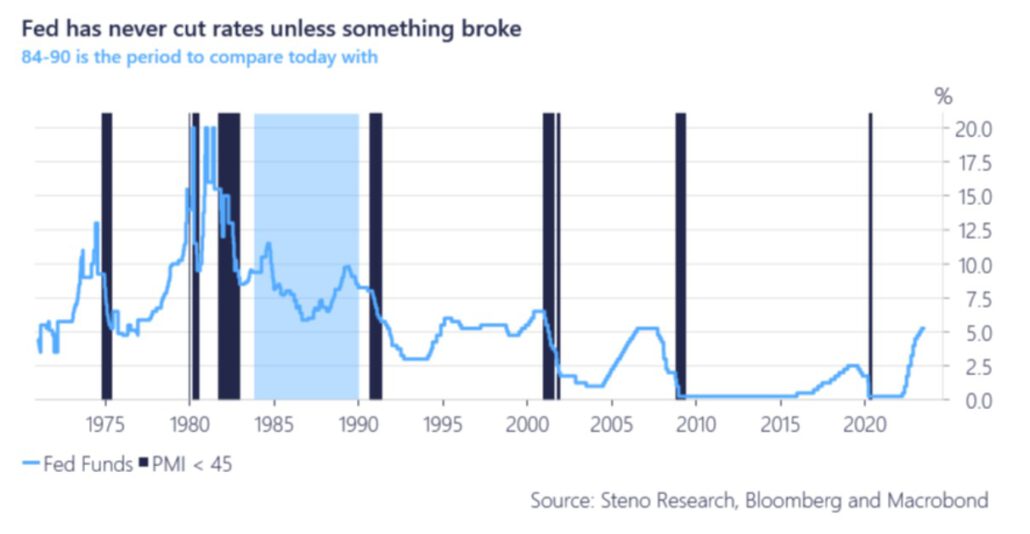 Let's shift to the second-quarter earnings reports, which are well underway. As of Thursday, 35% of the companies represented in the S&P 500 have reported their figures. On average, these companies reported earnings growth of 4.93% and an average sales increase of 7.03%. The results so far have surpassed analysts' expectations. Similarly, in Europe, approximately 36% of the companies in the Stoxx 600 have presented their numbers. Here too, average profits (22.1%) and sales (1%) have exceeded analyst expectations. While we're still far from the finish line, we can't deny the promising start to the second-quarter earnings season.
Last Week's Market Performance: A Global Overview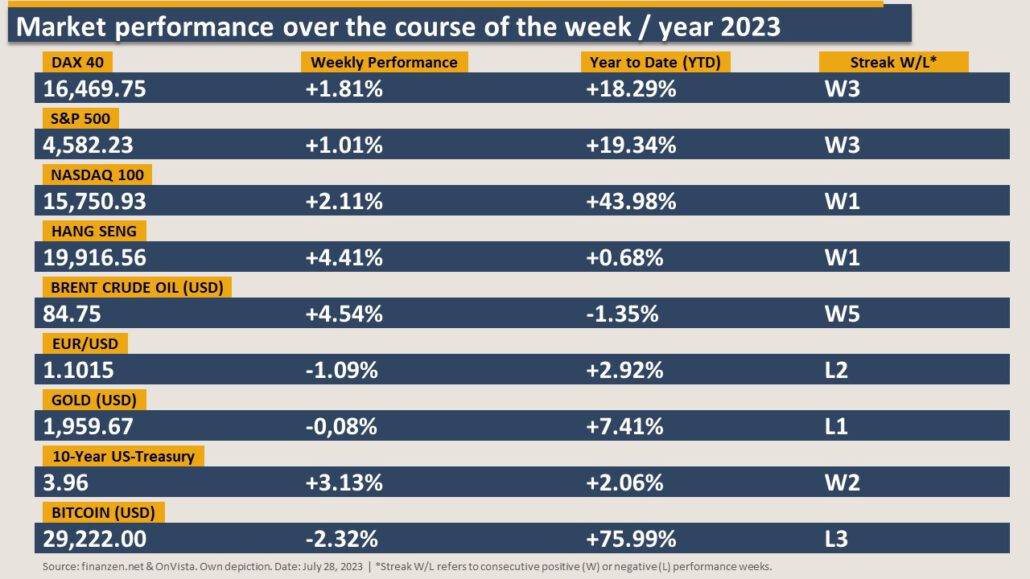 Last Week's Survey Results | Calender Week 30/2023
In last week's poll, 61% (down from 70% the previous week) of LinkedIn participants and 80% (down from 82% the previous week) of Instagram participants were bullish. The S&P 500 didn't disappoint and continued its three-week winning streak, ending the week with a performance of 1.01%. If you want to participate in my weekly polls, make sure to activate the notifications button on LinkedIn, and you'll be notified every Saturday at 8 P.M. (CET).
You can vote here in this week's poll.
Cheerio!
Endrit Cela The Investment Fella – #ECB #mm #411 🦍